News,
From materiality assessment to CSRD report - How can complexity be reduced?
Conducting a materiality assessment to define strategic measures based on its results and to build up sustainability reporting is nothing new. The process is already established and is used worldwide.
In the standards of the Global Reporting Initiative (GRI) and the International Sustainability Standards Board (ISSB), materiality assessments plays a decisive role. Materiality assessments pursues an important objective: to differentiate sustainability aspects that are relevant to a company from those that are not significant. A simple objective - but a process with many dimensions and determinants as well as a wide variety of success factors.
Double is better - double materiality
Whether a sustainability issue is material for a company can be examined from different perspectives. On the one hand, there is the question of whether the business activity has an influence on the environment or society. This influence can be both positive and negative. This dimension of materiality is called "impact materiality." Classic examples are greenhouse gas emissions during production, hazardous substances during disposal or human rights violations within the supply chain.
On the other hand, an issue can also affect the company and its ability to generate profits, take out loans or take out insurance. In this case, we speak of "financial materiality." Fines due to violations of the law, increases in CO2 prices or the increasing scarcity of natural resources are examples of the financial dimension.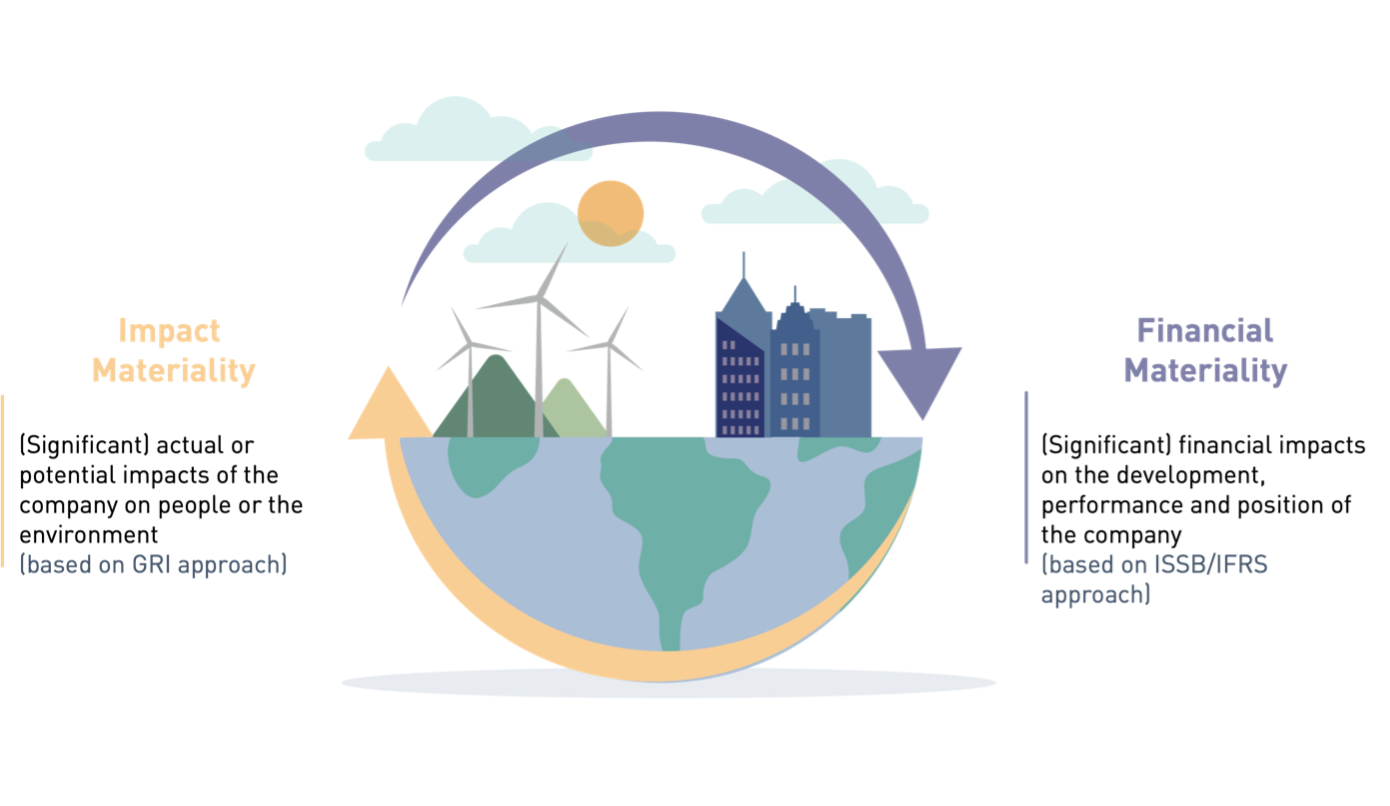 While the GRI standards focus on impact materiality, the ISSB primarily considers financial materiality. The CSRD (Corporate Sustainability Reporting Directive) aims to combine both dimensions into a combined materiality approach: double materiality. The European legislator hopes that this approach will enable companies to cover as broad a spectrum of material topics as possible in their reporting. According to the CSRD logic, a topic is considered material as soon as it has sufficient relevance within one of the two dimensions.
Process of a CSRD materiality analysis:
The European Sustainability Reporting Standards (ESRS) form the CSRD reporting framework and contain a total of 1,144 data points in their current draft version. In addition to quantitative data, qualitative information must also be reported. The latter contain information on guidelines, measures and targets that the reporting company has implemented or planned in relation to material sustainability topics. The ESRS also form the basis for the materiality assessment. A catalog of topics can be extracted from the standards, which then act as a starting point for the analysis. The further process is also specified by the ESRS, but also offers sufficient flexibility at decisive points to adapt the materiality assessment to the individual company. These levers can be used to reduce the complexity of reporting.
The "filter function" of the materiality analysis:
Companies are not required to report all 1,144 data points specified by the ESRS. CSRD reporting follows a simple basic principle: only those topics that are material to a company need to be reported. Accordingly, the scope that must be covered depends on which topics are defined as material in the materiality assessment. It should be noted that there are topics that are mandatory by law. This applies, for example, to all reporting requirements relating to climate change. Thus, Standard E1 - Climate Change must be fully complied with by all reporting companies.
The materiality assessment is at the heart of the CSRD. A well thought-out materiality assessment is therefore of great importance. It significantly determines the scope and effort of CSRD reporting. It makes sense to start with the materiality assessment at an early stage and to see the process as a kick-off for CSRD implementation.
If you are interested in further information or a discussion and would like to learn more about the implementation of CSRD, the application of ESRS and the process of a materiality assessment, please do not hesitate to contact us.

ABOUT KIRCHHOFF CONSULT AG
With around 60 employees, Kirchhoff Consult is a leading communications and strategy consultancy for financial communications and ESG in German-speaking countries. For over 25 years, Kirchhoff has been advising clients on all aspects of financial and corporate communications, annual and sustainability reports, IPOs, investor relations, ESG and sustainability communications. 'Designing Sustainable Value': Kirchhoff combines content expertise with excellent design to create sustainable value.
Kirchhoff Consult is a member of TEAM FARNER, a European alliance of partner-led agencies. Their common goal: Building the European management consultancy for integrated communication.
Learn more at: kirchhoff.de