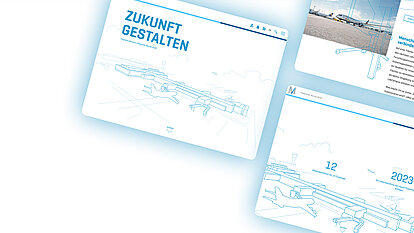 Flughafen München
Shaping the future
INTEGRATED REPORT 2018
Only talk about the past in annual reports? No way! A report should also convey visions of the future. A plan of the big picture is drawn in Flughafen München's integrated report 2018. And it does so with a clever combination of illustrations and photographs that simply visualises: Something is developing here.
Client
Flughafen München GmbH

Project
Integrated Report 2018

Category
Reporting, Digital
Services
Concept for Content and Design of Online and Print Reports
Consulting and Project Management
Design, Animations, Motion Design, Layout
Consulting on Production, Processing and Refinement
Programming, Technical Implementation and Updating
WELCOME TO THE BUSINESS LOUNGE
A report like a good airport: Modernly made, there's something going on everywhere, and you find what you're looking for immediately. This is ensured not only by the generous and contemporary design, but also by the focus on service functions. Interactive graphics give insight into the business model and the types of capital. And the many fine details and refinements provide that certain something.